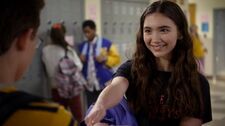 Jackie is the girlfriend of Adam Goldberg. She is introduced in the fourth season of the show. One of the reasons that Adam likes Jackie is because she one of the only lady nerds and that was very rare (Adam said). She is also a fan of Lord of the Rings, she said on her first appearance on the Goldbergs. It is shown that they (Jackie and Adam) kissed on episode 22 season 4. She is very similar to Adam in many ways, for example, they like the same nerdy fandoms. But, Jackie likes Star Trek. Adam is forever for Star Wars. Force Freaks and Trekkies do NOT get along..
But, she will most likely be in season 5 of The goldbergs!
Jackie is portrayed by Rowan Blanchard.
Ad blocker interference detected!
Wikia is a free-to-use site that makes money from advertising. We have a modified experience for viewers using ad blockers

Wikia is not accessible if you've made further modifications. Remove the custom ad blocker rule(s) and the page will load as expected.