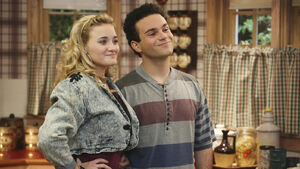 Lainey Lewis is a high school student at William Penn Academy, best known for being the best friend of Erica Goldberg and is dating Barry Goldberg. She is played by AJ Michalka
Personality
Edit
Lainey is popular and best friends with Erica. She is a lot like Erica and loves the band Heart.
Relationships
Edit
Lainey is best friends with Erica and is dating Barry. It is revealed that her mom left the family, leaving Lainey's father, Bill Lewis, to take care of her.Her aunty looked after her when her mother left.
Ad blocker interference detected!
Wikia is a free-to-use site that makes money from advertising. We have a modified experience for viewers using ad blockers

Wikia is not accessible if you've made further modifications. Remove the custom ad blocker rule(s) and the page will load as expected.